In March we went skiing in the French Alps with a group of 15 friends. We stayed in Les Houches (pronounced Le Zoosh), France, just outside of Chamonix, at a "little" chalet called the Chalet Rocky Mountain.
It was truly amazing. The chalet has three floors, seven bedrooms and four showers, a huge living room area, a dining area and full kitchen (along with chefs), a wrap-around porch and a hot tub out back. Bridgette and Melissa, who do the upkeep of the chalet, cooked amazing meals for us every night but one and baked goodies for us to snack on when we came in from our hard days of skiing. Andrew and I had been waiting for this trip for so long, and it was amazing to finally get to do it, especially with such a fun group!
The group consisted of me and Andrew, the Frasers, the Triefenbachs and Katy's little sister, our single friend Kevin, his sister and two of his friends, Jeremy and Michelle and a couple of their friends. Some of these people are some of our closest friends in London; some of them we knew but not well, and some of them we'd never met. Amazingly, though there were 15 of us all staying in one place, sharing four bathrooms and common areas, we all managed to get along smashingly! Following is my day-to-day diary of the trip, for easier intake…
Saturday, 7 March
Day 1 - Getting the Gear
When we arrived, the resort workers bussed us out in two Land Rovers to the ski shop where we picked up our rented gear. When I got fitted for my boots, the man brought over a pair of silver and blue ones, to which I exclaimed, "Oh! How pretty!" Only afterward did I realise that practically everyone's rented boots were blue and silver. However, I think because the ski-rental guy found me so goofy, he then fit me with a pair of hot pink skis (to which I also exclaimed with delight), while all the other beginners had neon orange (YUCK).
Note the three pairs of orange skis and then see how much prettier my hot pink ones are with my silver and blue ski boots!
Sunday, 8 March
Day 2 – Lessons
Our first full day of skiing was a full day of lessons for me and those four we began lovingly referring to all week as the Jacks-hyphen-Triefenbachs (Jeremy and Katy Triefenbach and Emily Jacks, Katy's sister). Jeremy had skied before, but the rest of us were complete novices. Our instructor was very, very French. We had trouble understanding her at first, but by the end of the day we'd learned her turns of phrase and dubbed ourselves "Team Snow-Ploh" (which is how the instructor pronounced the word snow plough, a move that you learn as a beginner to help you control your speed and/or stop). I can happily brag that my instructor was very impressed that I had never skied before and said I was a natural (she should have seen me on Day 3 – Disaster). We learned on some flat slopes and then moved on the Bunny Slope, but by the end of the day, we were going down a Blue Run (which is the easiest in Les Houches), and I was so freakin' proud of myself.
Andrew, that same day, decided to take a half-day of snowboarding lessons with four others: Kevin and his sister, Jim, and Jeremy K. Although he picked it up rather quickly, he immediately started trying to go down some Red Runs (intermediate slopes) and ended up falling down a lot. Apparently, when you're on skis, it's much easier to keep your balance because your legs are separate, and when you fall, you're most likely going to fall straight forward and brace yourself with your hands (boy, did I figure that out fast). However, on a snowboard, you have to have a lot more balance using your upper body and arms, and when you fall, you can pretty much fall any which way, and you hands aren't much help because you were trying to use them to balance! He ended up at the end of the day with a sore bum, and though he hasn't given up on snowboarding completely, yet, after not having skied for 13 years, he really just wanted to strap on a pair and enjoy the rest of the week without having to try and figure out how. So he decided to turn in the snowboard at the end of the day and rent a pair of skis instead.
Monday, 9 March
Day 3 – Disaster
So, as I said, I was ecstatic and was pretty much thinking that I was a skiing queen (with a bad sun/wind burn the morning of Day 3)! I was ready to tackle the Black Runs (the most difficult) on my second day of skiing (I'm exaggerating a bit – I was confident, but not quite that confident). So I did the Bunny Slope a few times to "warm up", and then I was ready. Katy and Emily wanted to stay on the Bunny Slope a bit more, but Jeremy Trief and I went with Sharon (Shaz) and Andrew down a couple of Blue Runs. I got scared. It was so narrow and steep! How could Team Snow-Ploh go from side to side on such a narrow strip?! I got more scared. I fell. I cried. I got up. I fell again. I cried some more. I took off my skis and walked a little, then put them back on and fell again. And cried a bit more, just for good measure. I swore, as though I were a four-year-old Kelly screaming at Judy Harper after she tried teaching me to swim by jumping in the deep end and sinking down to the bottom, that I would never go skiing again and was convinced that Andrew was trying to kill me. So then we went to lunch, and after lunch, Jeremy and Andrew went off in search of more difficult slopes, while Shaz and I stayed in the restaurant a while longer and had some hot chocolate to nurse my wounded ego.
Shaz decided to ski with me because she's kind of a lackadaisical skier and pretty much gets dragged skiing by her husband, Emmanuel. Don't get me wrong, She's a really good skier; she just doesn't much care for flying down a mountainside balancing on two sticks at 100 miles per hour (as she put it). So she decided to do the Blue Runs with me. When we were just finishing up our hot chocolate and getting ready to go out and tackle the Blues again, Katy and Emily came in. Apparently, they had gotten confident on their skis and decided to do the same Blue Run we'd done with our instructor the day before, but they made a wrong turn and ended up basically rolling head over skis all the way down a Red Run. Needless to say, they were upset, and cranky, and mad at one another, and had even contemplated which of them would eat the other if they got stranded and were close to death on the side of the mountain. They decided to call it a day.
Shaz and I headed out and ran into even more trouble. I couldn't get my ski on. Try as I might, the stupid thing WOULD NOT GO ON. Understand that Sharon Fraser is an incredibly calm, down-to-earth and patient person. She very rarely loses her cool. I was getting upset again. I was holding one foot with ski (the one successfully latched on) in the air, as I jumped up and down on the other trying to get the bottom one to latch. Sharon would make me stop every few minutes to say soothing words to me and make me take a few deep breaths before trying again. My frustration levels, after having been so sure of myself the day before, just shattered. At one point I stopped, picked up the troublesome ski, raised it over my head with both arms and threw it as hard as could in front of me, screaming, "I HATE SKIING!!!!!!!!!!!!" at the top of my lungs. Mind you understand that we're right outside the main café just after lunch at this time; there are people passing by, chuckling at my misery, etc. It was appalling. Shaz calmed me down again, and we eventually got that damned ski back on. We did the Blue Slope (which then became known as The Blue Slope That I Like) over and over and over until we got tired and left the mountain.
Tuesday, 10 March
Day 4 – Me and Shaz
Sharon took me out and basically coached me and coaxed me down some new runs. She took me to another Blue Run that was about right between the Slope That I Like and the slope that Andrew took me down that I iced over with all my crying the day before. We took it easy and practiced and just had a really great day together. About mid-day, we went down to La Cha, a restaurant at the very bottom of the Slope That I Like, where we sat down with some hot drinks and called the husbands. They came, bringing along the rest of the group, and we all had a nice lunch together. Afterward, we all went out again. Sharon and I skied together for a while longer and then left the mountain to have some tomato juice in the bar at the bottom.
Wednesday, 11 March
Day 5 – The Blisters and the White Out
On the fifth day of my adventures in skiing I awakened with a gosh-awful mouthful of fever blisters to accompany the terribly sunburn I'd awakened with the day before. They were so bad that I was ashamed to walk upstairs. Then Sharon came in and had the same problem! She decided not to ski that day because we couldn't put anything up over our faces for fear of spreading them even more. I was afraid that if I didn't ski, then I would forget everything I'd learned the past two days. So I sucked it up and went, taking fever blister cream in tow and putting it on every hour or so. I also shoved a book in my vest, just in case I got too frustrated with Shaz to calm my nerves. I refused to ski with Andrew and friends that morning. I decided to stick to the easy stuff with Katy, who was back in the saddle (er… skis), and Jeremy T., who was patiently cheering her on as she cruised down the Bunny Slope. I did the Bunny Slope a few times and became bored, so I went out on my own to the Blue Slope That I Like. I would do it once or twice by myself (including the top part, the Part of Which I Was Deathly Afraid because it was so steep) and then would ski back down to the Bunny Slope, which was right next to the Blue Slope That I Like, to check in with Katy and Jeremy and let them know that I was A-okay. That morning, heading out on my own, I realised what a White Out is. When I got up to the top of the Blue Slope That I Like, the Part of Which I Was Deathly Afraid, I realised that I could no longer see my hot skis on my feet. The fog and snow were so heavy that I literally could not see my feet below me, much less the bottom of the slope. I couldn't even tell where the edge was. Luckily, I'd done it so many times the day before with Shaz, that this only caused me a slight panic attack and a frenzy of scared-out-of-my-wits every time I started at the top.
So then at one point, I was about halfway down on a relatively flat bit, when I heard a child crying off to my right. This wasn't just whimpering, the child was crying hysterically, but I couldn't see my feet, so of course I couldn't tell where the child was or why it was bawling. I made my way over to the sound, though, which was coming from the ski lifts, which were the kind that's just a circular seat attached to a long pole. You just grab it and hold on for dear life with your skis on the ground as it pulls you up the mountain. I get over there and see a little girl wearing a red vest marking her as a ski student, and she's laying in the centre of the track where the poles are coming up. If someone were to ride the next pole up, they'd run smack into her before they ever saw her with the conditions as bad as they were that day. So I made my way over to her and helped her up and out of the path of the poles… but that was as far as I could go. I didn't know what level this girl was, and the snow was so thick on the sides of the pole path that I could barely make it through; it was above my waist. I wasn't sure if she could get through it, and being a beginner I didn't really think to take OFF both our skis and try wading through it. So I just held her there and waited, assuming her instructor HAD to eventually come back for her. We saw three people ride the poles past us, just staring at us while I pleaded for them to send and instructor our way if they saw one. Then we saw two instructors pass us, also staring as I begged for their help (I can only pray that they were on their way to look for other lost children and knew my little girl's instructor was on his way). Finally he arrived. Not so much as a thank you from the instructor. And then I figured out why. Once the little girl back on the slope, she whizzed on down and left me in the dust. She was no novice and could have gotten herself up, back down the mountain and rode the ski lift up on her own! She was just being a little drama queen!
After checking in with the Triefs on the Bunny Slope again, I called Andrew and arranged to meet him and rest of the crew at the restaurant at the bottom of the Slope That I Like for lunch. I skied down there on my own because Katy was still a little shaky on her skis after her escapades with Emily the day before and wanted to stay clear at the top of the mountain. We had lunch, and then Andrew spent the rest of the day on the Blues with me. We did several Blue Slopes, and I even skied down the entire front side of the mountain at the end of the day (the Slope That I Like was on the back side, and front side was much more steep).
Thursday, 12 March
Day 5 – Meredith Gray in Chamonix
The next day the fever blisters were worse, and Sharon and I were both out of medicine for them. Emmanuel felt bad for us and decided to skip skiing to hang out with Sharon because she was really upset about the blisters (although I think mine looked much worse than hers, especially after skiing again the day before). So Sharon and I walk into the pharmacy and get the pharmacist's attention to ask what we need. The pharmacist actually jumped back when she saw our lips. She told us that we needed something much more serious than she could sell us; we needed to see a doctor, and she made an appointment for us to see one across the street. We went in together, and the doctor reminded me of Meredith Gray on Gray's Anatomy; she was really young, teensy-tiny and beautiful. She poked the hell out of our mouths and had absolutely no bedside manner. She finally wrote us a prescription, which we filled back at the pharmacy and then went back to the chalet to hide in misery once more.
Andrew had a blast that day, though. He went to a different slope – Mont Blanc – and risked his life several times, but had fun doing it!
That night was Bridgette and Melissa's day off from cooking for us, so we went out to a restaurant in the city of Chamonix, but we came back early so that we could get up for a full day of skiing the next day. It would be our last day of skiing for the trip.
Friday, 13 March
Day 6 – Après Ski Delight
Despite the fever blisters and sun burn, I couldn't pass up our last day of skiing. I came out loaded down with all my prescription medication in a backpack stored carefully on Andrew's back, and we spent the day skiing together. By the end of that day, I was back to feeling like a natural again, though without the confidence of day one since I looked like I'd been kissing a toad. We skied and skied and skied, and it was lovely.
Then afterward, we dropped off our skis and went to the bar for what the French call après ski, which just means "after ski".
It's basically Happy Hour and lasts from about four or five to seven or eight in the evening. It got SO crowded that it was one-in/one-out; there was a great band playing, and we had a wonderful time.
Most of those who had skipped skiing for the day came out to the bar, and we partied till we were called home for dinner. Bridgette and Melissa had made us a Mexican fiesta, complete with tequila shooters to toast to a great trip!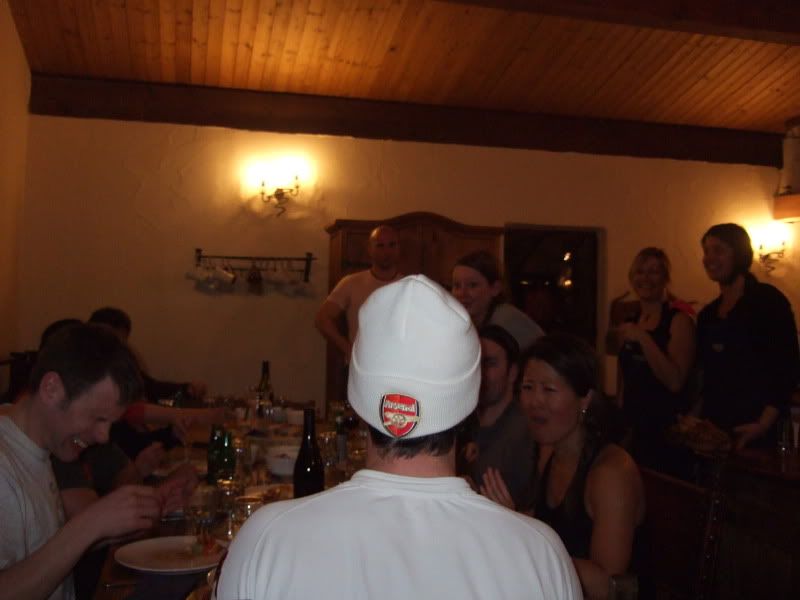 We toasted and ate and drank, hung out in the hot tub and played Uno and various versions of Rummy, and drifted off to a peaceful sleep before flying home the next day.