So we went to Barcelona, Spain from November 8-11. Actually, I was there from November 8-16 but the week of November 12 was spent at our global convention, and Kelly flew back to London on Sunday, November 11. So what is there to say about Spain? Well, I'm sure you've heard it from us many times, but it is truly a beautiful city in its own way. Europe is amazing like that. As you'll note in some of our more recent trips to Prague and York, each city is very unique and is special in a different way.
Spain. Just to fill you in a bit on the geography of Barcelona, it is located in the Northeast part of Spain along the Mediterranean coast. If you think it was warm, you would be wrong. Once the calendar turns to fall, the Mediterranean becomes cold, and Barcelona was no different. It was not freezing, by any means, but when I think of Spain, I think of shorts and t-shirts, bathing suits and frozen cocktails. Instead we wore long pants, long shirts or sweaters and coats and scarves the entire time. So, what did we do while we were there?
Well upon arrival, we took a taxi to the hotel only to find out that we were staying quite a bit away from the city center. We had not really done any research prior to booking the hotel, so we got what we asked for, but the good news was that a metro station was about a 10-minute walk from our hotel. Let me give Barcelona real credit here, as their metro system is exceptionally efficient and easily zips you from one place to the next. I believe it was only a 10-15 minute ride to Las Ramblas, which is a very long boulevard with street performers, vendors, clubs, restaurants and hotels adorning the sidewalks and centre pathway. Well, we actually went to Catalunya, which is the main town square and sits at the top of Las Ramblas. Catalunya was lovely, but it was the least impressive of the town squares we have seen in Europe. In addition, the fountains were turned off, as the high season for tourism had long passed. So, Kelly and I cross the street and begin to peruse down Las Ramblas, admiring the various vendors. What we found amazing was that you would walk through districts where all of the vendors pushed similar goods. We walked through the flower vendors, pet vendors, fruit vendors and book vendors with street performers dotted along the way. Think of New Orleans in terms of the street performers, and you get the gist of it. We passed a huge market on a side street and ventured inside to be amazed by the fresh seafood prominently displayed, the butchers, wine and cheese kiosks, etc. It seemed like it never stopped. Finally, we felt like we had seen enough squid and large mouth fish staring up at us and kept moving down the street. I wish I could say we ate a fantastic lunch that afternoon, but honestly we grabbed a quick slice of pizza and a coke and kept walking. As you wind down towards the southern tip of Las Ramblas you walk up to a statue of Columbus in which he is supposed to be pointing to the US (or the new world). The ironic part of the monument is Columbus has his back to the US in a sign of disrespect and actually points toward Turkey.
After we finished walking down Las Ramblas we strolled along the water front and up into the Gothic Quarter surrounded by the old Roman walls. This is also called the medieval area, as much of the buildings are in their original form. Within the centre of the Gothic Quarter is the Barcelona Cathedral. The cathedral was nice, but it was not nearly as beautiful as many of the other churches we have seen. In addition, the cathedral was covered with scaffolding, as they were cleaning the exterior. The one good thing about it was the view from the top it provided after a short elevator ride to the roof. As you can see from the pictures, some turned out quite nice. Outside of the cathedral was a small market we browsed. We used the tour guide to do an hour long walk through the rest of the area. The pictures with the dirty water and the ducks were inside this area, and I believe inside the cathedral. The birds are not to be bothered. They are free birds, but they leave and always return to live here among the fountains in the cathedral.
As we left the Gothic area, we walked down some shopping streets before finally taking the metro to Parc de Montjuic. I'm sure you're wondering what the significance of this park is, but it famous for the 1992 Summer Olympics and the park they built at the top of it. The Olympic stadium and many of the buildings used to host the numerous events were built specifically for the games. After walking around the buildings and the park we descended the mountain by way of the Placa Espanya where we saw the Magic Fountain and the site of the kickoff to the Olympic games, which is a large square with two towers that look much like the bell tower in the Piazza San Marco in Venice. Nevertheless, it was beautiful, and Kelly had fun running across the fountains when the police were not looking. Look at Kelly living on the edge.
Afterwards we walked up the road to the Poble Espanyol. This place is supposed to be an exact replica of historical Spanish towns prior to sky scrapers. It was really quaint, and we wish we had gone earlier in the day to give us time to enjoy the numerous shops and boutiques there. The city was walled in, and admission was required, but it was full of narrow alleys with two-story buildings complete with a town square. We did not explore it near as much as we would have liked because much of it was closing shortly after we arrived, so we settled for a few beers in the city center and a much needed rest after walking so much of the day. By now, we were some whipped puppies, so we took the metro back to the hotel for a nap.
After waking and freshening ourselves, we headed off to dinner in the port district. I seem to recall dinner being good but not great.
As you can clearly see, I made a mess of myself and, more embarrassingly, the area around me. I was ashamed when the waiter took my napkin, which I was using to hide the stains I created on the white table cloth. Oh, well. It was, nonetheless, hilarious.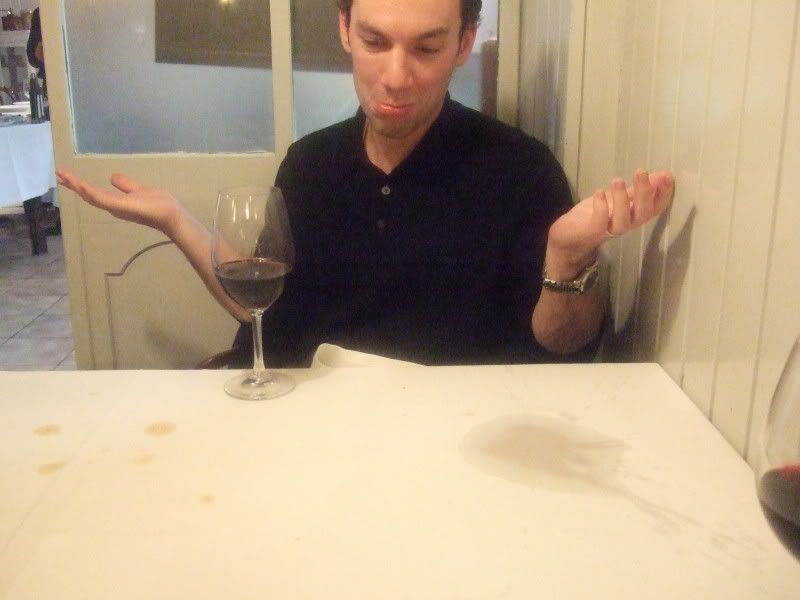 The next day brought more adventures, as life always is when you put Kelly and me together. Our first stop was Sagrada Familia. Sagrada Familia is the famous church designed by Antoni Gaudi. As the pictures below show, it looks like it is dripping with wax. It is really neat, but it is incomplete. Antoni Gaudi died before its completion, and it was designed to have two major facades. The most famous façade by Gaudi is charming because of its uniqueness, even though it is eccentric to say the least. The newer façade that is still under construction is heinous.
Kelly and feel that we have been inside enough churches, so we did not venture in this one. The tour book noted the outside was the only really special thing about the building to begin with, so we left after seeing the ugly façade. After leaving the Sagrada Familia, we strolled over to the Ciutadella Parc. The park was really nice and relaxing and it has a famous fountain by Gaudi. His architecture is a large part of Barcelona and it can be stunningly beautiful, but it is very different. I imagine many would believe it to be overbearing. After meandering around the park, we adjourned to lunch around the port district again at a nice little restaurant famous for its generous lunches enjoyed with wine and tending to last quite a long time. We were the last table they let in for the day, as we were unaware they closed around 3pm. I think we walked in the door at 2:55. We were certainly not the last to leave, either. Lunch was fine. I had salted cod, which was their specialty, but I was not impressed. In fact, I disliked it so much Kelly threatens to make it at home when I'm being difficult.
After lunch we walked through the area surrounding Las Ramblas and ended up finding the Picasso Museum. We went in and spent a good bit of time inside it and were quite impressed with the museum and the manner in which it presented his works accompanied by explanations regarding the period in which it was created and the phase in his development he was currently experiencing. By the time we left the museum, it was well after dark, and off we went to dinner. Now here is where Kelly and I continue to make mistakes. You would think after the number of failed Mexican food attempts in London we would accept that Europe can not create good Mexican food but we have not. So off we went to Margarita Blue for Mexican food and drinks. I think you have to understand the clock of Spain to firmly grasp how empty this place was upon our entering for dinner at 8pm. The Spanish go to work at 9am or so, but take two hours off in the afternoon for siesta before working till about 8pm. They usually go to dinner around 10pm and then drink until 3am. Showing up for dinner at 8pm immediately identifies you as a tourist. Nevertheless, there we were. The margaritas were not bad, but they were tiny. I felt like I was taking shots of margarita at €7 per person per round. I have small hands, and look at the size of the drinks in my hands. Needless to say, I switched to beer, so I could get out of there with my shirt. The food wasn't bad but not memorable.
After dinner Kelly thought it would be fun if we took pictures of us doing stupid things.
How she talked me into climbing 20 feet up a palm tree is beyond me, but I rightly blame it on tequila. It was not hard, so much as it was stupid.
I think the picture of me treating the large round marble as a crystal ball is amusing. After walking around for a bit we stumbled into My Bar where we befriended two couples that were in town from Scotland for the soccer match and another group there for a stag party.
I will conclude this part by saying we stayed out much too late and had too much fun. Consequently, we slept in quite late the next day.
We spent Saturday shaking off the effects of the previous evening and walking around
Parc Guell
. This was by far my favourite part of the trip, and I have yet to see anything in this world quite like it. Parc Guell is another Gaudi creation. Gaudi purchased the park in the early 1900s and lived there with his family. As a result, he designed and commissioned the construction of almost all but a few buildings in the park, and they are incredibly beautiful. In addition to the buildings, the park boasts some of the best scenic views of Barcelona. If you follow the link above it will take you to the Wikipedia information of the park. If you have time, I suggest you read it and look at the pictures, in addition to ours, as it is very interesting.
After leaving the park we returned to the hotel for a nap. We walked so much the prior two days we were exhausted. The night before did not help much either. After waking I coaxed Kelly into some good ole American food. There is only one place in Europe to get good American food…Hard Rock Café. Oh yes we did. So we dressed down and took the metro back to Catalunya for dinner. I'm not going to lie to you. It was by far the best thing I ate the entire time I was there, and I love trying new food. (As I found out the following week, we did not go to the right places.) Kelly ate macaroni and cheese, and I had fajita nachos that could feed a family of four coupled with Budweiser beers. So good! After waiting to eat for more than an hour and finally finishing, we went straight to the hotel to sleep again.
So that was Barcelona. Kelly and I enjoyed Barcelona but agreed that it would have been better with a group of friends in warm weather while casually strolling the city. We approached the city like Rome or Paris and wore ourselves out, when we should have taken it easy. Oh well, we had fun anyway. We wish you all had been with us. Lots of Love.