The second week we were here, PWC planned to send Andrew to Dublin for training. It was an extensive training program, and employees weren't supposed to bring spouses because it was a "get to know you" conference, where everyone in the Global Capital Markets Group (GCMG) met everyone else in the GCMG. It was held just outside of Dublin, and all meals were provided for the team. Andrew, the darling that he is, got special permission to bring me along, knowing that I would be freaked out spending my second week in London by myself, especially since we weren't even in our apartment at that time; we were still staying in the hotel. We were just supposed to keep it kind of "under wraps" that I was his wife and there.
Andrew was in training all day, every day, and I was supposed to go sightseeing in the city each day. That was easier said than done. I had to ride the bus into Dublin, which meant I had to walk about a half mile up to the bus stop. That's not a bad at all, but it was FREEZING and drizzling EVERY DAY in Dublin. It didn't actually rain often. No, that would have been more tolerable. Instead it was that nasty, barely-there drizzle, where you look ridiculous wearing a hood or holding an umbrella, yet if you're in it for more than an hour, you're soaked to the bone. I did end up going into Dublin a couple of days, though, and had a quite a nice time. There's so much literary history in Dublin! I was in my element. I saw Oscar Wilde's and George Bernard Shaw's homes, walked around Trinity College and saw the Book of Kells; I visited the Dublin Writers' Museum and saw original works and artifacts of William Butler Yeats, Patrick Kavanagh, James Joyce, Samuel Beckett, Sean O'Casey, and Seamus Heaney. I was able to see Francis Bacon's entire studio. They actually took everything, from trash to unfinished paintings, from his studio in London, moved it to Dublin (his birthplace), and rebuilt the studio there in the gallery, placing every artifact back in its "original" place in the rebuilt studio. It was really amazing.
My only complaint about Dublin is with the BUSES. They're just miserable! At least the bus stops here in London are labeled! The ones in Dublin just had a circular sign that designated it a stop, with no description of where you were, and the bus drivers didn't announce the stops, either. Basically, if you didn't know where you were or where you were going, you were screwed! I don't think I ever managed to get off at the correct stop in Dublin, and I was lucky I made it off at the right stop on the way back to the hotel each night. The drizzling rain would cloud up the windows so that you couldn't even see out to know where you were, and it was a pretty long ride, between 30-45 minutes by bus, to get to Dublin. I was petrified half the time I was on those buses...
Andrew seems to have a good time while he was in the training sessions. I'll let him tell you about that, though...
That weekend we had arranged to stay in Dublin, though it turned out to be not so much "in Dublin," because all the hotels in Dublin were full by the time we made our reservations! We stayed at the Stillorgan Hotel; it was bright yellow and about a twenty minute cab ride from Dublin City Center. We went sightseeing. We saw the Monument of Light (aka "The Syringe to Make You Cringe" or "The Stiletto in the Ghetto"), many monuments and statues, and museums enough to make us "museumed out" for a while. We basically wandered around a lot and bought our camera there, as everything is cheaper in Euros than it is in pounds! At night we went to the Temple Bar, where there are a lot of unique shops, bars, and restaurants. It's really a big tourist trap; it reminded us a lot of New Orleans, with strange street performers and people everywhere. We did meet some nice Dubliners at one of the more famous bars. We sat and chatted with them until the wee hours of the morning Saturday night and had a fabulous time. We even met a guy from England who invited us to come spend the weekend with him some time (sounds a little creepy, but we think he was just genuinely nice).
Having just bought the camera, we took lots of pictures, so here they are!
This is us at Temple Bar with the random Dubliner's we met: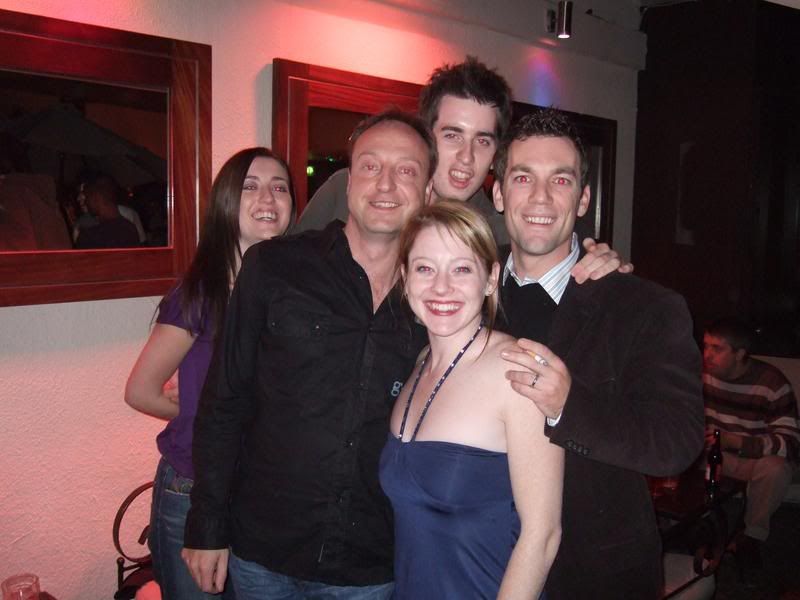 These are some snapshots we took while wandering around the city: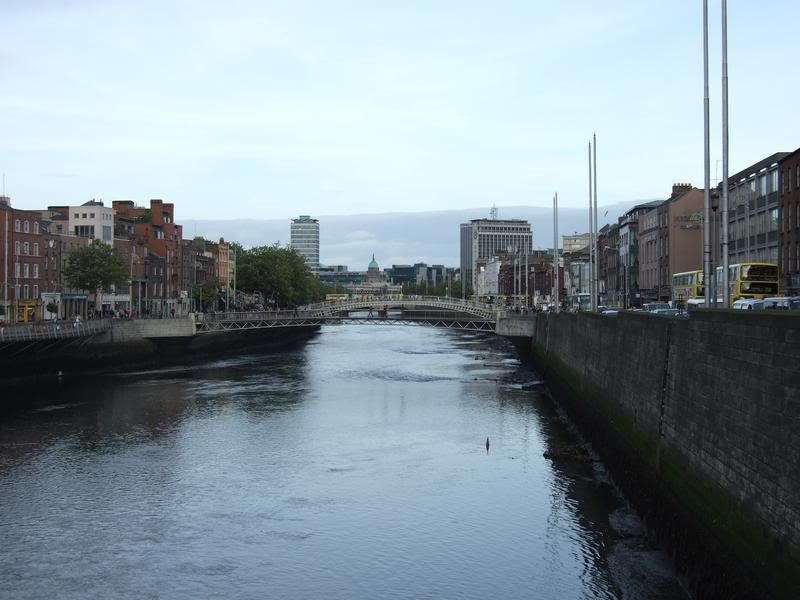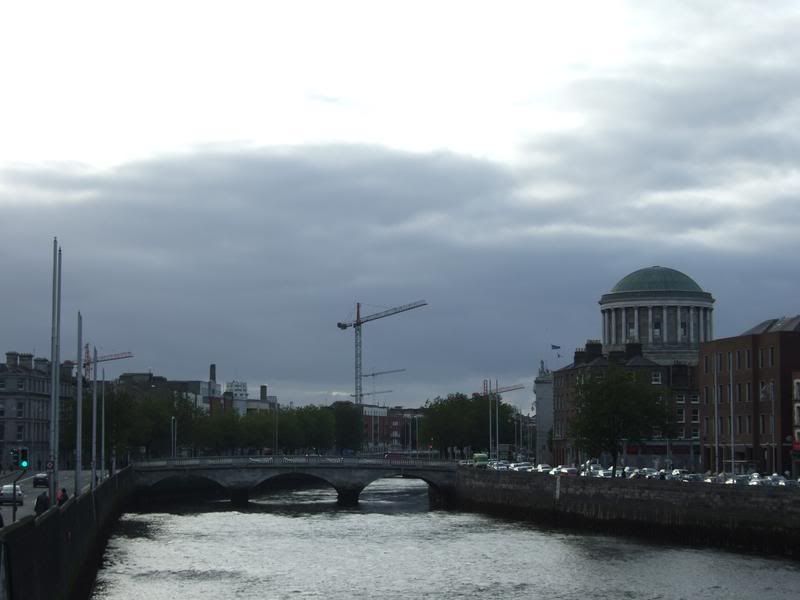 These are of Dublin Castle: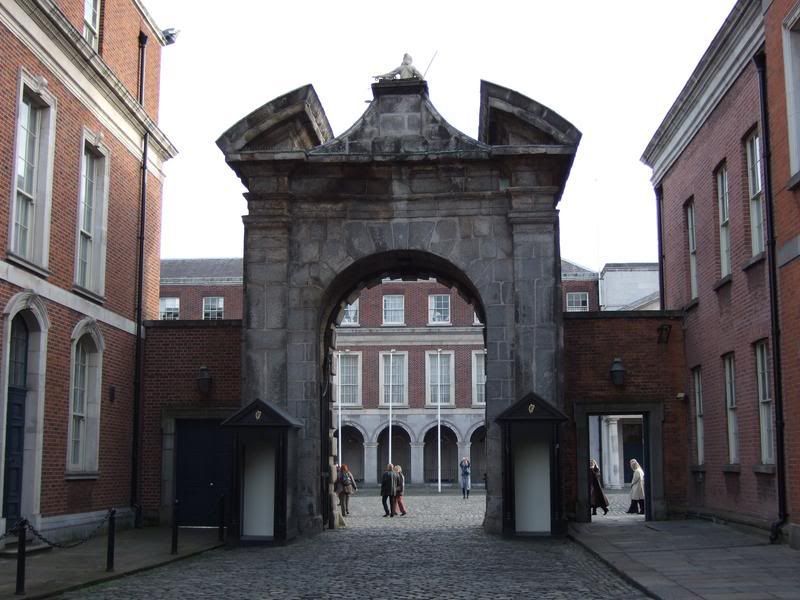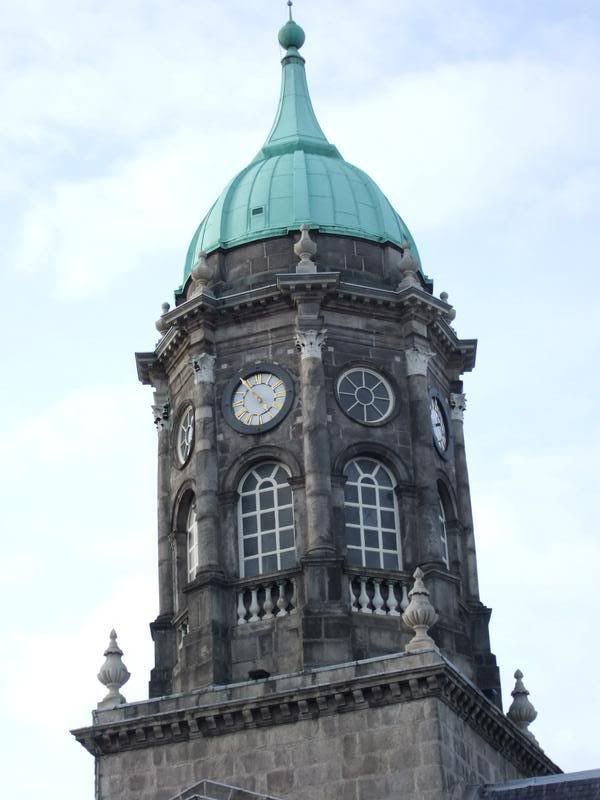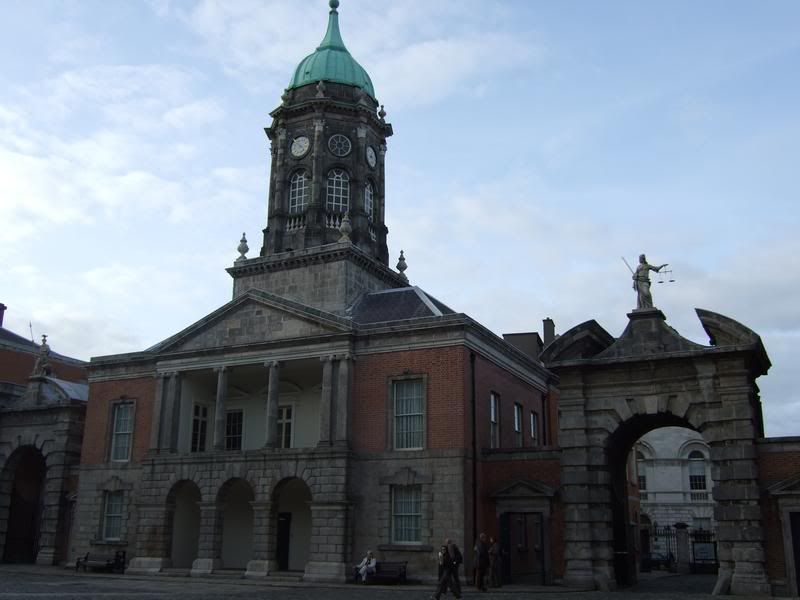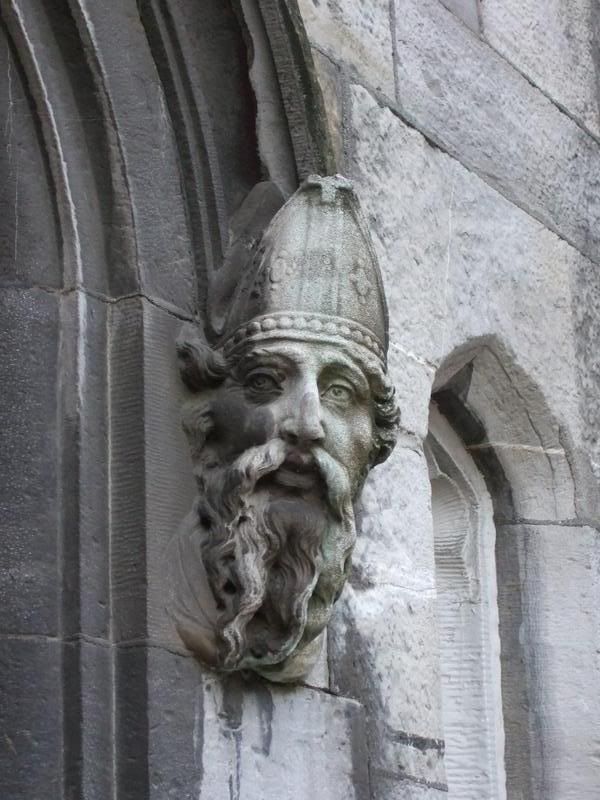 This is Cooke's restaurant; we had to take a picture. We didn't actually eat there; it was too expensive, but it's probably owned by some of my relatives!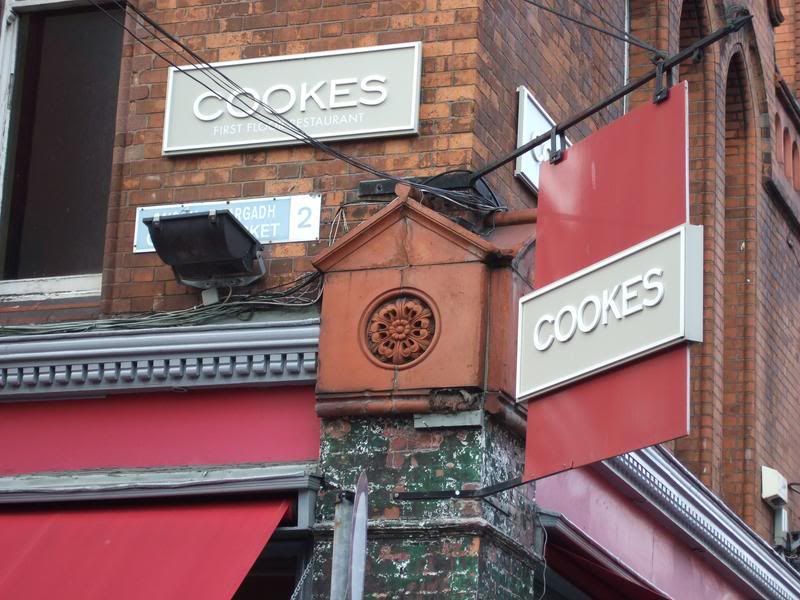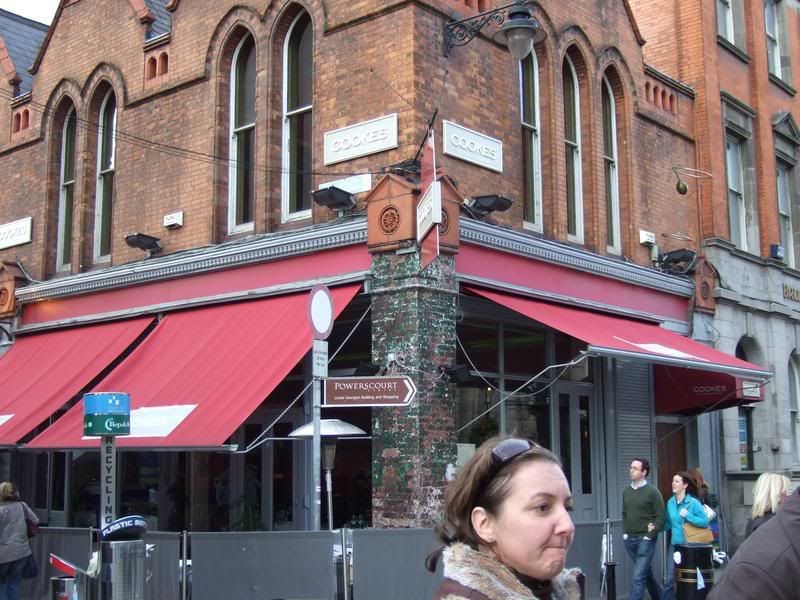 More random city pictures: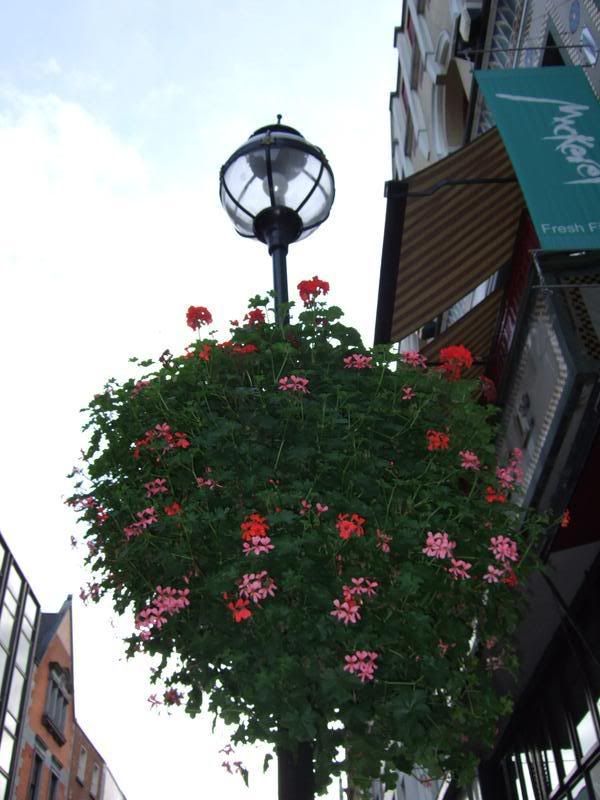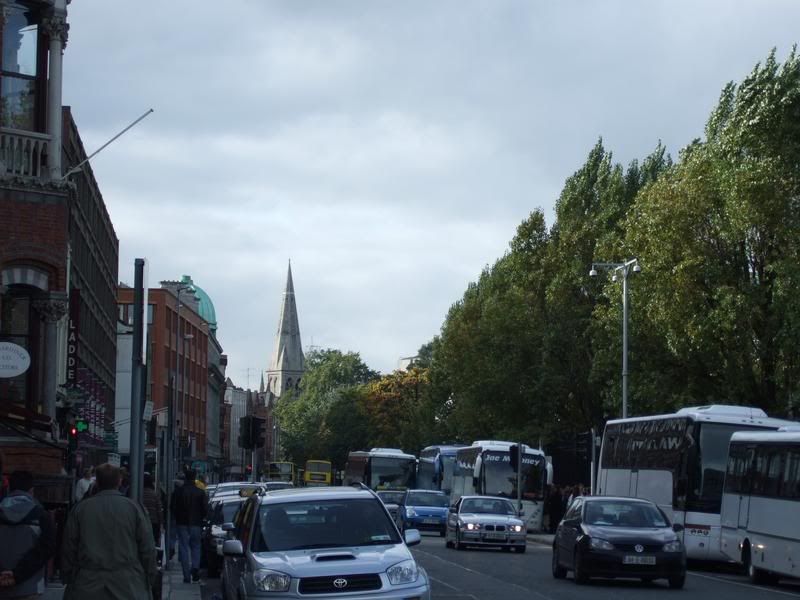 This is us in Nick's Restaurant. The best Italian food I've ever had!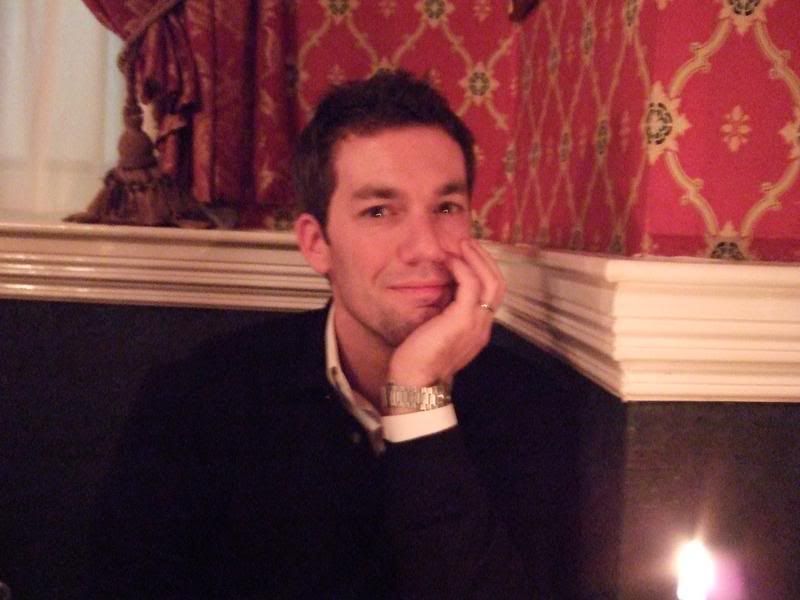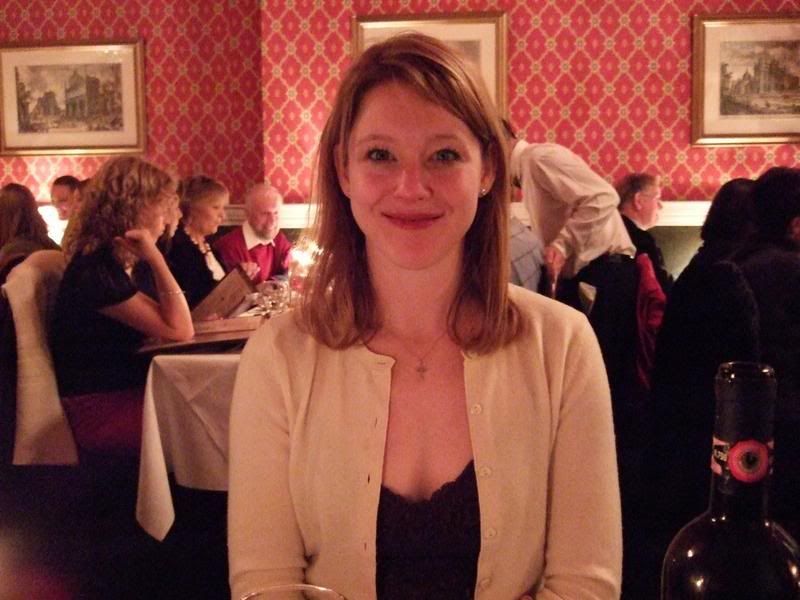 Random rabbit:
And, finally, the Stiletto in the Ghetto: