Well, here it is; we've been here about a month and a half, and I'm finally getting the blog spot down for all our friends and family back home. I guess I need to start at the beginning, then, and let everyone know what's happened since we've been here!
Our plane landed at the crack of dawn here in London, which felt like the middle of the night to us, due to the six-hour time difference. We had slept as much as possible on the plane, but, of course, we were still exhausted once we arrived. Despite that, we were too excited to go to sleep, so we hopped on a double-decker tour bus that spoon-fed information to us while we rode past Big Ben (and Parliament, kids!), Buckingham Palace, Harrod's, etc. At one point, I jolted awake to one of those violent head bobs that so rudely awakens one from an accidental nap, and I glanced quickly to Andrew, to see if he had caught me. His head was leaned way back, mouth wide open, and, had it not been for the traffic on the streets below us, I swear he was probably snoring. So I settled back down and napped, as well. By the time dinner rolled around, we were so tired that Andrew actually wore his sweater inside out, and neither of us noticed until we were at the restaurant! Needless to say, when you come to visit, we're not going to allow you to go out sightseeing first off. YOU MUST SLEEP TO FUNCTION!
So about our hotel room:
We were in an "executive studio" for the first night. It was really cute, all white, all Ikea. There was a sliding closet door that opened to a "kitchen," which was in front of a table and chairs, which then led to the den area with a couch, coffee table, and television that picked up about 10 channels. Oh, and there was a desk kind of built into the wall with a telephone. Then you walked upstairs, and there was a little loft that over looked all this, and in the loft was the bed, two nightstands, and a chest of drawers. Oh, yeah, and the bathroom was downstairs; it had an electric shower and no shower curtain, so the water went all over the floor.
After a day or two of the "executive studio" we were moved into the regular hotel room / apartment that would be our home until we found our permanent place. Basically, it was exactly the same, except that the bedroom was off to the side instead of upstairs, and it had a small Ikea armoire, as well as the chest of drawers; also, the bathroom was twice as big, though it still had the strange electric shower and no shower curtain. The shower was, to say the least, temperamental. The water pressure was fine, but the temperature, most of the time, was either scalding hot or ice cold! It was completely miserable. The hotel room was cramped quarters, especially since Andrew and I had packed way too many clothes and still had to live out of suitcases due to lack of furniture. I've included a photo of the kitchen / dining room / den area; the bedroom was too grotesquely covered in clothes and suitcases (mostly mine, of course) to photograph. I really wonder how on earth the maid put up with us! To this day, we shudder as we pass the tube station we used while living in that hotel room.
On Wednesday of that week, Andrew and I met with the estate agent, who took us around London, showing us possible places to rent. I immediately fell in love with the second flat we saw. It was in Notting Hill, and everything was a pretty honey-colored hardwood. It was on the ground floor of a building that was just around the corner from (as I saw it through rose-colored glasses that morning) a flower market and quaint little shops. There was a fireplace on one wall and a small aquarium, fish included, built into another wall (which, though I love fish, would have had to go). The best part, though, was that the kitchen was also a sunroom; I mean really half-glass, and it overlooked an actual little backyard that would have been ours only! Granted, it wasn't very large, but there was tall grass (growing up through the concrete), and adorable, if weathered, table and chairs, and a small space for a garden, even. I loved it. Andrew was skeptical about the place, though. The entrance to the flat was really dark, and it was kind of hidden and back from the street, almost in its own little alleyway. Where I had noticed quaint shops and a flower market, Andrew saw a bar with unsavory-looking patrons.
Despite Andrew's precautions, I wanted to place an offer on it, just so that we didn't lose it; he preferred to see what else was available, and the estate agent sided with Andrew. Andrew and I went back to Notting Hill that night, to see the place again (because I had never even noticed the bar), and I must say, it was a little frightening! After walking down the street and hearing someone shout a racial slur, we decided that we most definitely wanted a place that was much safer than that area appeared to be. Actually, the entrance to flat, once viewed at night, was really creepy, and I could just imagine scary people lurking in the darkness. Needless to say, I was really glad he made us hold off and view it at night!
Andrew's favorite place was near to our hotel, which was in a fabulous neighborhood surrounded by great museums. It was on the top floor of a mansion block and had a roof garden that would have been open only to us, and it could have been breathtaking with the right touch. My only problem with it was that there was no elevator, and the staircase was a bit narrow. When you take into consideration that we would be having to race up and down those staircases with both Hadley and Savannah, possibly meeting neighbors on the way up or down, neighbors who may not like dogs; I was worried that the neighbors would complain about the dogs, and I don't want to have to get rid of them while we're here, as some of our friends had to do with theirs.
So the next day we were shown many more places, and, despite the fact that we both really wanted a quaint little flat in a mansion block that looked like the one in the movie
Notting Hill
(though not as dirty!), we finally decided on a place in Chelsea, just over the Chelsea Bridge south of the River Thames and directly across the street from Battersea Park. It's a high-rise complex, but the security is great, and a lot of people have dogs here.
Our flat is on the second floor and has a balcony overlooking the piazza; it has a pretty big kitchen with a bar that opens to the dining room area, which opens to the den (it's all one big room). There are two bedrooms and two bathrooms, so we have plenty of room for guests! Oh, and it has a walk-in closet in the master bedroom, which is really great, and the towel racks in the bathroom are warmers! How cool is that?! Here are some pictures: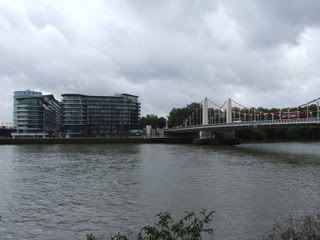 This is our apartment building, as seen from across the River Thames. The bridge to the right is Chelsea Bridge, which takes us to the heart of London from our place, and the trees you can see in the background are Battersea Park.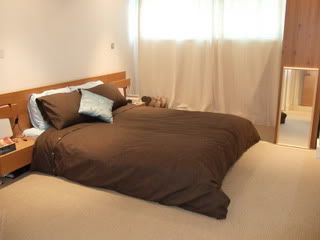 This is the master bedroom. It looks as though our bed is directly on the floor, but really it's about four or five inches off the floor, and Andrew cut up some of our packing boxes while we were moving in so that now we have additional "sliding drawers" underneath our bed. Luckily, the duvet that Andrew's aunt, uncle, and cousins gave us as a wedding present covers it up so that you can't see underneath the bed!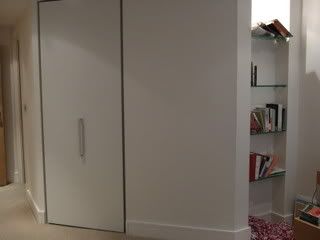 To the left of the bed is a narrow bookshelf, built into the wall, and our closet, the wonderful walk-in closet!
Yes, the majority of that mess in the closet is mine. Andrew got booted to the armoire in the bedroom, except for his suits.
The master bedroom also has an en suite bathroom: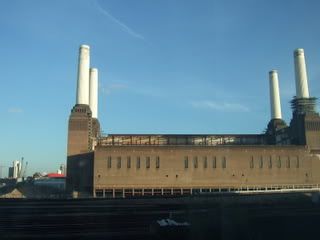 We have a "grand" view from both our bedroom and the guest bedroom windows. Our complex was built right next to this old, very creepy-looking, disused power station, and they were having a huge debate over what should be done with this gigantic waste of space. The Deciding Powers recently announced that it will be turned into a great little shopping mall with restaurants, high-end stores, and a market. That would be fabulous for us because it's literally right outside our bedroom window. However, it's very doubtful that it will be completed before we head back home for good.
Here's a picture of the guest bedroom. It will be your bedroom when you come to visit! Hopefully, though, by then, we'll have gotten rid of the boxes cluttering the corner of the room!
Here are a couple of photos of our kitchen: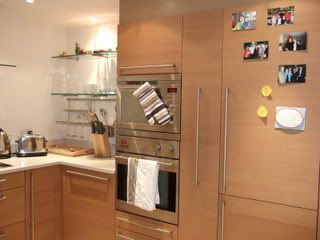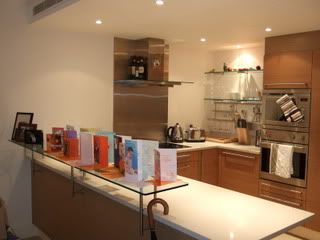 The cards you see on the bar are all birthday and Halloween cards that I received from my family! Thanks everyone! I love you!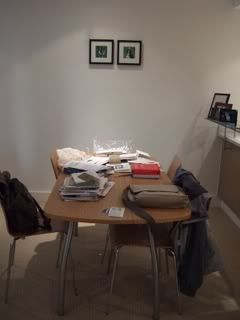 This is our little dining area, separated from the kitchen by the bar you see above. All that crap loaded on the table? Why that's the thank you notes that you all will be receiving before Christmas!! I promise!
Here are a couple of photos of our den. We have a great flat screen television with built-in DVD player and surround sound, thanks to Andrew and PWC!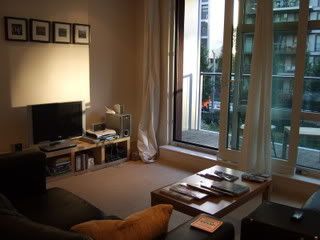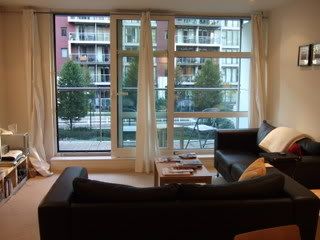 Notice the Lou's Pub coaster on the couch arm!
And this is the view from our balcony:
Well, that's our place! We didn't move in until we'd been here about a month, though, after our trip to Dublin (which will have to be another posting with lots of pictures). I hope that you all can see it in person; we'd love to have any visitors we can, so please come on!